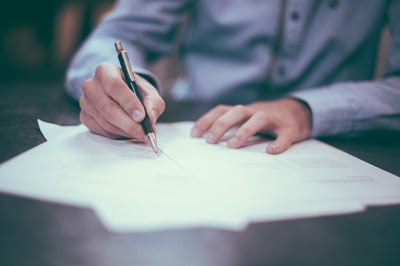 An SBA guarantee is the insurance policy that allows your bank to extend credit to businesses that don't fit your conventional credit profile. So, protecting that guarantee is a top priority for most lenders.

Maintaining your SBA guarantee is a process that begins during your first conversation with a borrower and continues until the last payment of the loan. Read on for our overview of the key steps to take during each phase of the loan that will help ensure your guarantee is there if you ever need it.



Evaluating Borrower Eligibility
Industry. While most small businesses are eligible for support from the SBA, there are restrictions on certain types of businesses. This can include businesses that engage in speculative activities, gambling, lending, or pyramid sales, real estate investment firms, or religious or government organizations.
Size. Because SBA loans were created specifically to help small businesses, borrowers must adhere to specific size standards that dictate how large the business can be. The definition of "small" varies by industry – and in some cases, the businesses can be considerably larger than lenders realize. But, it's important to ensure the borrower is within prescribed size standards.
Proceeds. An SBA loan must be used for sound business purposes. E

ligible use of proceeds are defined by the SBA, and it reserves the right to deny a guarantee for improper use of funds, or if a lender fails to document the use of proceeds at disbursement.

Other relevant factors. Because eligibility is such a critical factor for protecting a guarantee, LendXP has developed a comprehensive checklist with more than 50 questions to ensure all important areas of eligibility are covered.
Underwriting
Thorough borrower vetting. It's important to understand the full picture of the business and the people you are lending to because the SBA expects lenders to use a standard of prudence. For example, does the borrower have additional businesses that qualify as affiliates, and how do they affect the borrower? What is the credit history of the business and its principals?
Adequate debt service coverage. The SBA wants to see that a business has enough cash flow to repay the debt from the operations of the business. You'll want to examine things such as the current debt structure. normalized cash flow, the useful life of the assets being financed, and the historical and projected debt service coverage.
Adequate working capital. The SBA needs assurance that the business has adequate working capital for the short and long-term. Your analysis should include the current working capital needs, and also consider future needs and how growth will be funded.
Closing
Loan authorization. Loan closing, along with eligibility, are the two most critical areas of preserving the guarantee. Closing the loan in accordance with the approved loan authorization is essential. LendXP has developed comprehensive closing checklists and procedures that help ensure no details are overlooked.
Updating as needed. A company is a living, breathing entity, and things are in flux all of the time. If months have passed from the initial loan application to closing, some material adverse changes may have occurred and may require documentation and SBA approval before closing the loan.
Servicing
Documenting changes. What you do after the loan is closed matters as well. While servicing the loan, situations will arise that will fall into three categories: servicing actions for which you need SBA permission, actions for which you need to notify the SBA, or actions that can be completed "unilaterally." We'll make sure SBA SOPs are followed for each change of circumstance until the last loan payment is made.
LendXP has never had a guarantee denied on an SBA loan we originated. We'll work with you during every step of the loan process to provide guidance that ensures your guarantee is protected. Learn more about our services for lenders.