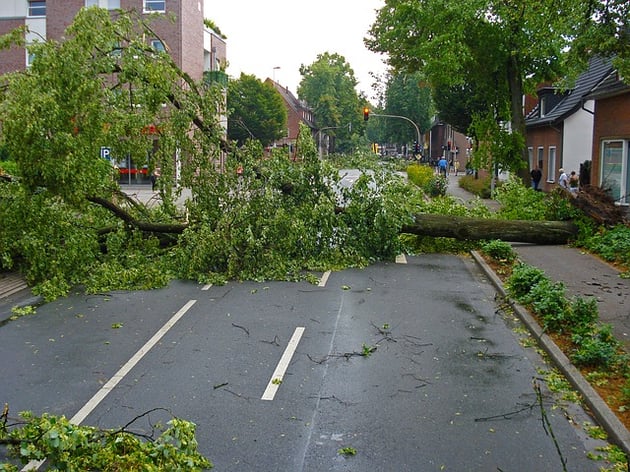 Many communities throughout the Midwest this year have experienced weather events severe enough to be declared disasters by the federal government.

Heavy rains, flooding, tornadoes, fires, storms – no community is immune to the possibility of a natural or manmade disaster. When one strikes, community banks have an important role to play in helping with recovery and return to normalcy.
The
U.S. Small Business Administration
offers low-interest disaster loans to help businesses of all sizes recover. In FY 2018, the SBA approved more than 140,000 disaster loans totaling nearly $7.0 billion. If your community has been impacted, here are key things lenders should know:
Eligibility for an SBA Disaster Loan is broader.
SBA Disaster Loans aren't just for for-profit businesses. Eligibility is broader than for other types of SBA loans, and includes businesses of all sizes and nonprofits such as charitable organizations, churches and private universities.
Organizations can borrow up to $2 million.
Repair or replace damaged or destroyed real estate, machinery and equipment, inventory and other business assets.

Make structural improvements such as adding a retaining wall or sump pump, clearing out overgrown landscaping, or structural retrofits.

Make improvements to lessen the effect of future disasters, such as elevating a property or building a safe room.
Loans are available to cover operating expenses during recovery.
The SBA also offers Economic Injury Disaster Loans of up to $2 million for organizations to cover operating expenses, regardless of whether they have suffered property damage. These loans are for small businesses, agricultural cooperatives, aquaculture enterprises and nonprofits affected by disaster to help meet working capital needs or normal business operating expenses through the recovery period.
It is important to note that $2 million is the maximum loan for any combination of property damage and/or economic injury.
The loans can work in conjunction with insurance.
Sometimes in the wake of a disaster, the insurance claims process can take weeks or months to play out. Even if insurance payment is expected, an organization can obtain a loan from the SBA while insurance is pending.
The process consists of three main steps.
There are three primary steps involved in obtaining an SBA Disaster or Economic Injury Loan:
An application is submitted online, at a disaster center, or by mail.

After an initial credit check, an SBA loss verifier estimates the total cost to repair or replace damaged property. Information is gathered to reach a loan approval decision.

If approved, the loan is closed and funds are dispersed, with an initial disbursement made within five days.
Contact LendXP
for support with SBA disaster recovery for your commercial customers. You can learn more about other
SBA loan programs here
.